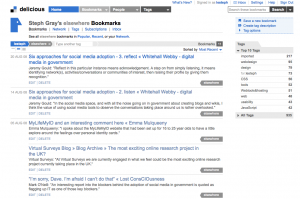 Sadly, I missed Jenny Bee's session titled 'Why I love Twitter' at the UKGovWeb Barcamp back in January, but if I were ever to run one, I'd have to call it 'Why I love Social Bookmarking'.
Let me count the ways:
It frees your favourites. I have a computer at home, and a computer at work. I find interesting websites using both machines. Previously, I had separate, messy bookmarks on each machine. Now, I have access to my favourites from wherever I am, using my toolbar buttons. (n.b. IT won't let you install toolbar buttons at work? Set yourself up a bookmarklet instead)
It lets you multicode, with tags. Previously, I had folders of favourites. A website was either 'funnies' OR it was 'web design inspiration'. Now it can be both, and easily searchable.
It lets you send interesting stuff to other people. Find something interesting, copy the URL, email it to your friend with a quick comment. So last century. Now, I just tag it as a social bookmark for:username and it will pop up in my friend's list of bookmarks to review as and when they want, keeping their email inbox uncluttered. (In the real world, this only works with real social bookmarking geeks but I live in hope).
It can generate the most relevant RSS feeds you'll ever read. My latest approach to the challenge of tracking the comments I've left elsewhere, is to bookmark the comments section of those posts with a specific tag. I can then pipe the RSS for that tag into my blog sidebar to bring together all the blurb I've been saying, whether it's on my blog or someone else's. At work too, we're using a similar technique to keep track of useful content on specific subjects and pipe this into Netvibes-based dashboards as a sort of 'Editor's Picks' from the web.
It generates content, all by itself. A list of links and short descriptions that you've compiled might be of interest to other people. NESTA's research group use social bookmarking to collate and share links as a team, and then simply publish them as an email newsletter digest each fortnight. Or you can track interesting online debates and feature them on your site. Or you could just publish your interesting finds as a daily blog post (I pick up all kinds of interesting stuff from Dom that way)
And I don't even use it the way it was intended to be used: to discover interesting things others have tagged in similar ways.
So, if you aren't doing it already already, kick start your reflection of the web: start social bookmarking.