The Cabinet Office has recently relaunched its Civil Service website and job search function, including a little 'Developers' page tucked away in the footer. That page describes a rather lovely little API which lets anyone – with a freely-available key – retrieve a list of departments, vacancies and vacancy descriptions, including RDFa markup to the emerging government standard.
So the site's job search function lets you search by keyword, region, or department. But what if you want to subscribe to an RSS feed of the latest jobs for a particular department? Or get an email alert of new jobs matching certain keywords? Since the database is open, you don't need to wait for the Cabinet Office to provide these useful services – you can just build your own.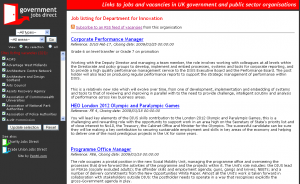 I'm not a hardcore developer, but in a few hours I'd managed to come up with a rough experimental service to:
List all jobs from a given department
Generate an RSS feed of jobs from any specific department (the site itself lets you get a feed of all new jobs, and there's a high volume Twitter account you can follow)
Get an email alert, based on the site's RSS feed, for new jobs which contain certain keywords
Given the enduring popularity of job search online, this is an exciting development for a major government data set. It should provide something which third party developers can use to derive valuable commercial services to their customers, as well as helping to ensure Government broadens the reach of its recruitment at lower cost, facilitating the creation of innovative new services based on public data. With luck, it's the business case for APIs to government data that we've been looking for.
The best bit? It's the result of the excellent work of Mizan Syed and colleagues from the Cabinet Office in-house eMedia team, bringing COI's new RDFa standard for markup to life. Nice work, guys!