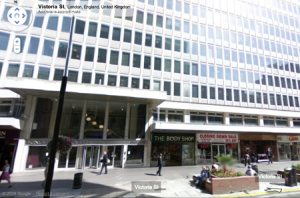 (Image: Google Street View, DIUS Kingsgate House, London)

This week marked a year since I joined DIUS as the first permanent member of staff working exclusively on social media, and roughly a year or so since Justin's pioneering social media strategy started to take shape.
It's been a fantastic year. From being a 'Team Leader' of a one person team, having merged with another team and picked up some great talents along the way, we're now briefly a team of eight (give or take). Growth isn't everything, but it means we can do more interesting things, more quickly, across a wider swathe of policy areas, and is hopefully a good sign.
Some of the highlights of this last year for me:
Exploring what we can do with consultation: The work Michelle did on the Innovation Nation white paper supported by a Commentpress site taught us a lot about the potential for niche engagement, and we're taking the learnings from the ups and downs of Science and Society and the HE Debate into future projects which challenge the old slap-a-PDF-on-the-website, 12-week approach.
Maintaining a JFDI attitude: I'm proud that we've overcome the treacle of well-meaning bureaucracy and delivered quite so many projects – some relatively successful, others undoubtedly flops – whilst remaining on good terms with IT, finance, comms and policy. We've taken measured risks… and the sky didn't fall on our heads. Yet. Best of all, we've given courage to a few others to do some of the same, only better.
Taking the broad view of engagement: Though based in Comms as most digital teams are, we've consistently argued that digital engagement has a wider role, from customer insight and consultation through to marketing and press – the Mature Students project in partnership with The Student Room is perhaps the most lovely illustration.
Open sourcing our stuff: A key plank of Justin's strategy was open innovation through sharing of our tools and experiences – I'm pleased with just what shameless cross-government networkers we've become, and the open sourcing of Commentariat and Bookmarklist which seem to be helping others already.
The picture isn't entirely rosy, of course. Some days, I feel like we've done little more than waste time, money or – even worse – opportunity. We certainly haven't embedded digital engagement in everyday thinking yet. When push comes to shove, many apparent enthusiasts are still sceptics at heart. We still haven't nailed some of the basics like evaluation, the business case or routinely procuring the right kind of suppliers (with some honourable exceptions, of course). And we're still very much feeling our way as a combined online/offline engagement team. Three months into 2009, we still need to work harder to support pioneers within the organisation to stand any chance of scaling up the impact of our work.
As I've posted over on Emma's blog, the lessons of the last year have taught us:
Interactive websites need interactive organisations. Don't embark on digital engagement projects without recognition from all involved that they need to actively engage with feedback – and then do something with the outputs.
Focus on the content, not the platform. Don't get too hung up on the tool, or even online as a whole. People engage with issues, so try and bring those to life and don't let the medium become the message.
Find and support the pioneers and champions. There is enormous latent enthusiasm and goodwill towards digital engagement within big organisations – find these people, get them the permission they need, and support them to do digital engagement for themselves. (Though self-evident, I've found this one tough to put into practice.)
Be honest about scope and boundaries. Find out up front what is up for discussion, and what's been decided. You'll defuse arguments and minimise hostility if you're open about identity, remit and agendas.
Protect information that needs to be protected. Manage the risks of digital engagement – not just in terms of reputation, but in terms of how the tools are used, data storage and archiving.
Integrate with other partners and channels. Combine things: be nervous if a project is based on a single platform or organisation. Build it and they won't necessarily come. Be smart about your online PR.
Make it enjoyable and interesting for your different audiences. Policy discussions work at different levels: facilitate a credible, interesting discussion for the experts, but also something more accessible and – dammit – fun for public/younger groups. And we're generally not the best people to decide what constitutes 'fun'.
Enable remixing & co-design: ask who can help us do this? Providing open data lets other people do what we can't yet imagine, or with a frankness we simply can't say ourselves.
Enhance progressively: build from inclusive and accessible base of information. 'Accessibility' isn't a tickbox, and it isn't pass/fail either. Choose social media platforms wisely but pragmatically, on the basis of publishing core information which is multimodal, customisable and platform-neutral.
Evaluate intelligently and share openly. Write down what you're trying to achieve, work out if you achieved it, and tell people what your learned.
Thanks to everyone who has helped us on our way so far: you know who you are. Here's to Year Two.