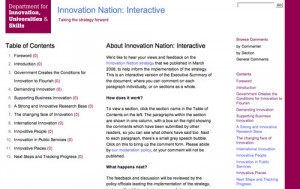 A year ago today – inspired by the Open Rights Group – we launched Innovation Nation: Interactive, a commentable version of the Innovation Nation white paper using WordPress, Commentpress and our shiny new sandbox server. (Goodness knows how, given that Arthur was barely 3 weeks old at the time, but somehow it got launched.)
At the time, I wrote:
Policymaking should be an ongoing conversation between government and stakeholders, not a process where government stops listening when the consultation closes.
We're not there yet, of course, but in the last 12 months, the digital engagement community (not just DIUS/BIS or government) has come a long way:
There are so many more examples I could cite. There's a long way to go, but we're climbing the mountain.