Recently, I was in a meeting of government communicators at the leading edge. The discussion was informed, and mature; the examples innovative and and impactful. Though the group had diverse backgrounds in Press Offices and Strategic Marketing, they were all in agreement that digital, and social media in particular, was the way of the future.
This happens a lot. For people looking to do more for less, digital offers a more cost-effective delivery channel. For people looking to reach younger or more mobile audiences, it offers new and engaging channels. For people looking to innovate, it offers exciting tools and techniques. All of this is possible, and I'd argue, desirable. But if we're going to make it happen on the scale people envisage, we need to translate that enthusiasm into a deliverable configuration of people, suppliers and skills. And to do that, we need to unpack what digital means in the context of government.
Brian Hoadley kicked this off for me with a great post unpacking two contrasting approaches to social media: as a one-off campaign tool vs an enduring set of communities. In my mind, it's also the difference between the digital marketing approach to social media, compared to the digital engagement or channel management approaches.
So here's my attempt to do a bit more unpacking (click to expand, or download the PDF version):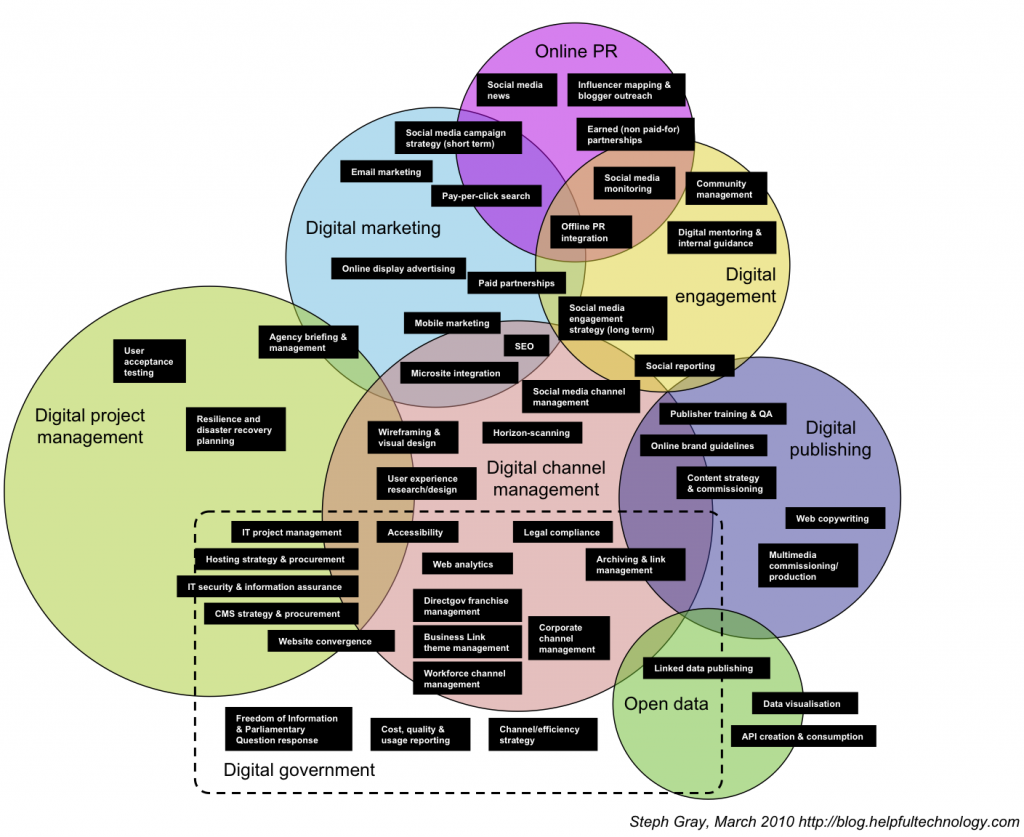 I came up with eight groupings of professional disciplines within the digital realm, within which are a total of 47 activity areas – each of which is a justifiable professional specialism in itself:
Digital Marketing
– Email marketing
– Mobile marketing (SMS & Apps)
– Online display advertising
– PPC search
– Paid partnerships
– Social media campaign strategy (short term)
Online PR
– Social media news
– Influencer mapping & blogger outreach
– Earned (non paid-for) partnerships
– Social media monitoring
– Offline PR integration (including traditional media)
Digital Engagement
– Community management
– Social reporting
– Digital mentoring & internal guidance
– Social media engagement strategy (long term)
Digital Project Management
– IT project management
– CMS strategy & procurement
– Hosting strategy & procurement
– Agency briefing & management
– Wireframing & visual design
– Resilience & Disaster Recovery planning
– IT security and information assurance
– User Acceptance Testing
Digital Publishing
– Content strategy & commissioning (including social media)
– Web copywriting
– Publisher training & QA
– Multimedia commissioning/production/editing
– Online brand guidelines
Digital Channel Management
– Corporate channel management (i.e. core website)
– Web analytics
– Social media channel management (e.g. corporate Facebook, Twitter)
– Accessibility
– User Experience research/design
– Archiving and link management
– Microsite integration and branding
– Legal compliance with privacy, data protection, copyright regulation
– SEO
– Horizon-scanning (e.g. tools, trends, technologies)
Digital Government
– Website convergence
– Directgov franchise management
– Business Link theme management
– Workforce channel management
– Freedom of Information & Parliamentary Question responses
– Channel/efficiency strategy
– Cost, quality & usage reporting
Open Data
– Linked Data publishing (e.g. RDFa)
– Data visualisation
– API creation & consumption
What does this tell us? I think there are a few noble truths there:
Digital needs go-betweens: just look at the overlaps. In a day's work, webbies find themselves in discussions with IT, PR and digital agencies, lawyers, photographers, data geeks, half-trained web publishers and vocal online communities.
It's not just a technical or communications discipline: the old cliché of webbies being from IT, or more controversially being just a branch of Marketing, doesn't bear out. It's obvious from the scope of the work mapped out there that there will be tensions with people who see the aspects of digital that relate to Marketing, but can't relate to the IT project management aspects; or who can relate to copywriting, but not user experience analysis or channel strategy.
It's demands a diverse team: the most important conclusion from this thought experiment is that government digital work is now such a vast, diverse and yet professionally specialised field, that we need to rethink who does digital. Either we radically scale up the late 1990s concept of a 'web team' from a primarily publishing operation to some much more sophisticated (you could easily see a Head of… each of the groupings above within much bigger digital operations). Or, someone needs to do a whole lot more engagement with people elsewhere in the organisation who work in parallel fields (IT service operations, offline marketing, training, internal comms, statistics etc) to help them become professional specialists in some of these fields themselves (of course, there are external agencies that offer many of these services, but they still need intelligent clients to work with).
So perhaps that's the biggest challenge for government in using digital more effectively to listen, discuss, inform and deliver. Somehow, we need to find ways to increase skills and capacity across this enormous field.
How on earth are we going to achieve that?