We've heard the story of the Motrin Moms. Nestle on Facebook. Or YouTube-if-you-want-to. But how can Press Officers and marketers get to practice using social media and getting the tone right so that they can avoid disasters and deal with storms if they hit?
For quite a long time, I've daydreamed about a social media simulator, a training package incorporating:
a tough but realistic public sector scenario with credible content
an automated software platform that simulates the user experience of Twitter, blogs and forums, able to unleash angry blog posts or a hashtag campaign at the click of a button
a facilitated training environment, with the opportunity to compare notes and approaches, and draw practical conclusions about what works in social media
Last week Tiffany and I delivered our first batch of courses for the Government Communications Network, the internal professional body for central government communications staff. Over two days, we delivered sessions on In-house PR using social media, Working with Online Communities and Digital Press Office skills.
As part of the latter, I attempted the first outing of The Social Simulator, which is my prototype of the vision above. Here's the 60 second version:
As first outings of prototypes go, it was OK. We were short on time, big on numbers and a bit light on briefing, so the teams battled manfully to hang onto the fast moving scenario – ably assisted by my helpers Dan Slee, Jenny Brown, Alistair Reid and Tiffany. But I took away from the experiment a real appetite for this kind of practical session, and some encouragement to keep trying.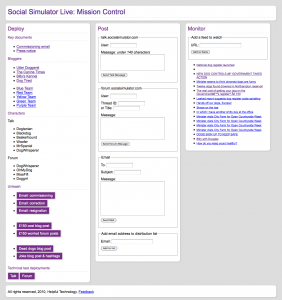 For a start, the technology behaved beautifully, using PHP as a true scripting language, triggering blog posts and status updates using the WordPress and Status.Net APIs, and manipulating the database under a Vanillla Forum. Teams even had a Netvibes-like but entirely client-side dashboard to track feeds across the scenario. Even on a ropey internet connection, it all worked OK.
But more importantly, public sector teams are at the stage now of wanting to make their social media activities well-planned, engaging and effective – and to do that, you need to put the theory and case studies into practice. Learning on the job is a vital part of that, but it's better to be able to take your first steps somewhere the tabloid press isn't looking.
If you'd like to talk more about how the Social Simulator might help your team or your clients, please drop me a line.