Yesterday, I did a bit of social reporting at my good friends Claremont's 'Data is Power' event, hearing about the impact data visualisation has been having on PR and journalism.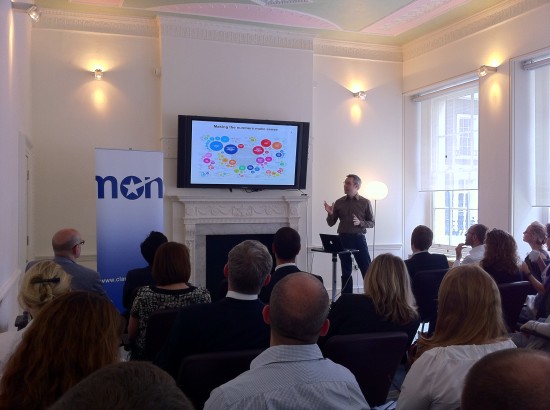 We heard from the Alzheimers Society about how they raised awareness of the postcode lottery in dementia diagnosis through smart data visualisation. It's a really great example of the art, as Vicky Ames from the Society explains:
We also heard from Simon Rogers from the Guardian's Datastore about how they've made information journalism a credible and 'mutualised' discipline, using simple tools such as Google spreadsheets to publish data for comment and interpretation by their community of experts and enthusiasts, telling some pretty compelling stories for example, about the war in Iraq.
Visualisation is in demand, without a doubt. A couple of weeks ago, I spent a day with a public sector client's research and communications team, thinking through how they might approach open data and data visualisation for their organisation. It was a fun day, with plenty of show-and-tell examples of nice data visualisation. We explored the contrasting, but potentially complementary goals of supporting more in-depth data interrogation or analysis, vs presenting and communicating engaging stories, including the potential data visualisation has to:
We took in Edward Tufte's sage advice from the pre-PC era for presenting data, too:
Have a story to tell
Choose formats carefully
Combine words, numbers & drawing
Ensure balance and scale
Make complexity accessible to the reader
Deliver the visual to a professional standard
Avoid decoration (the famous 'chartjunk' of gradients and lines he so despises)
… and talked about how Tufte's concept of simple 'sparkline' charts is being transposed to the social web, including by the Wall St Journal on economic data.
It's fascinating to see the politics of infographics unfolding too, for example around the 'debt crisis' narrative the Coalition government is trying to tell. What's for civil servants to say, and when do the visualisations become political messaging? The contrast between departmental and party political Flickr accounts around the Budget was intriguing: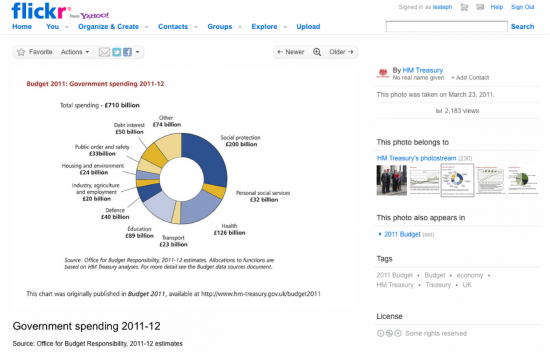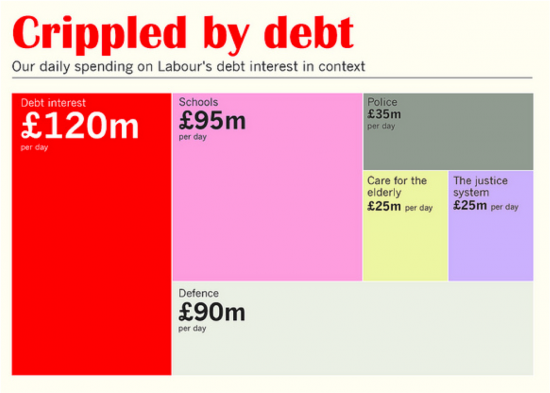 Source: HM Treasury vs Conservatives
So the storytelling angle is key, as Simon Booth-Lucking from Claremont highlighted yesterday and in a recent blog post:
If you'd like to find out more about data visualisation, there are some great blogs out there, and for a practical public sector angle, check out the fantastic Dataviz site backed by OCSI and CLG which presents case studies, tips and methodologies.