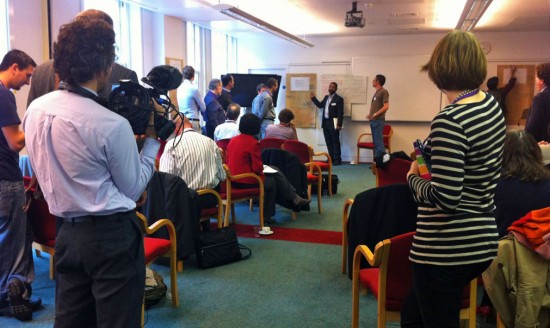 A couple of weeks ago, I spent a Monday afternoon at a stakeholder event hosted by the Cabinet Office's Transparency team on their Making Open Data Real consultation, with an interesting crowd of developers and users of public data products. We spent three hours pondering our thoughts on how greater use of open data might benefit accountability, business, and the public sector itself.
Francis Maude's preface sets the tone of the consultation:
Fundamentally, we want to be open about what we do. Open about what we spend. Open about how public services work. Open about making them better. And so we propose reform of the whole of the public sector along open, transparent and accountable lines. What we are doing is not just a first for Britain; these proposals represent our determination to be the most ambitious Open Data agenda of any government in the world.
To me, transparency doesn't get me as excited as open data (and still less than open government in the US sense), so it's a shame to see transparency and open data used pretty much interchangeably. Of course scrutiny matters – and there are plenty of reasons why it's good to know how much government spends, and with whom – though I think transparency of those government processes matters less than politicians think it does.
As an illustration of this, take the open data set of civil service jobs. A couple of years ago, the Cabinet Office created an excellent API to their searchable listings, which I used to build a simple proof of concept app, enabling anyone to sign up to an RSS feed or email alert of vacancies at a specific organisation. I built it into a commercial service I've run for a few years now – Government Jobs Direct – and built up a database of several thousand jobhunters signed up to alerts.
Then one day a few weeks ago, it all stopped working. The Civil Service site revamp hived off the jobs site to an external portal provided by WCN Recruitment, commissioned by MOD/HMRC. Sans API. Sans, indeed, even the ability to link to a list of jobs from any given organisation, which hasn't gone unnoticed.
As an API key holder for the Government Jobs API (and the lesser known Public Appointments API, which also seems to have vanished), I might expect to receive an email giving me some notice that the service was being closed down, right? The way that Google announces changes to its data services? But the first I heard was when the service stopped working, and thousands of people stopped getting their email alerts.
To be fair, I'm pretty sure this is an oversight, rather than a conspiracy. I also hear rumours that a new like-for-like API may be on its way. Certainly, there's no sign government is watering down its enthusiasm for open data or APIs. But I'd argue that running small-scale but commercially useful open data services like job listings maybe needs a higher priority than it's getting now. I suspect there's a real difference in the likelihood of commercial reuse when the data issued comes in the kind of well-packaged, REST-based API with solid documentation and quality hallmarks (like an API key), compared to a CSV file dumped on a datastore. I made a commercial decision to invest effort in consuming and integrating the API, created a public service from it which also generated some commercial benefit for me, and on which I paid tax back to HMRC. It's a great and virtuous circle, and one that Government needs to give a higher priority to than the 'transparency' data which doesn't have the same commercial applications.
Today is the last day to respond to the consultation – you can nip in and leave a comment on any or all of the questions, or you can submit responses in the traditional way.