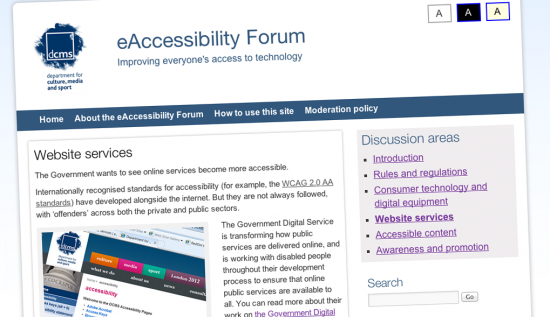 At Simon's recent WordUp Whitehall event, I presented on the process I went through on a project with BIS/DCMS to create a discussion platform for the eAccessibility Forum. The site went live yesterday, thanks to the sterling efforts of the DCMS Digital Comms team and their WordPress-smart IT colleagues – with a press release from the minister, no less.
I've also contributed a post to the site which describes my journey from 'not very much' to 'still pretty minimal' knowledge:
The challenge with accessibility guidance is seeing the wood for the trees. As a developer, you need detail about specific colour contrast ratios for example, and suggestions of tools and code samples that might help you. But you also need to retain a sense of what the general principles are too – why accessibility rules are written the way they are, as well as whether or not a particular piece of code meets a checkpoint.
The key point from a developer's point of view, as I made at WordUp, is that WordPress can be made as accessible as you need it to be – it's just PHP, HTML and Javascript after all. And even for non-gurus like me, it's doable.