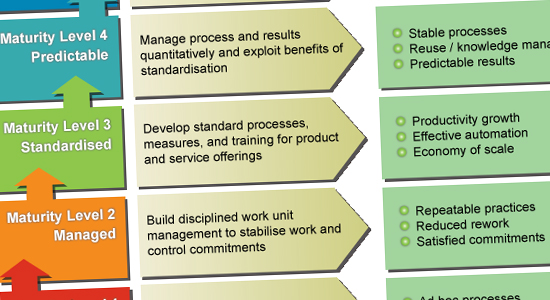 Hands up who says they work in 'new media'? Me neither. While we're not quite in a digital by default world, this stuff has been around for a decade and a half. Even in the public sector.
One topic I'd like to think about at this week's UKGovcamp on Saturday (the 'doing' day) is whether we can come up with a way of thinking about public sector digital activity in terms of a maturity or capability model, that could be applied to help teams and individuals set goals and maybe even benchmark their effectiveness. For instance, it might:
Help teams to think about how sophisticated the organisation is at adopting and managing social media as part of official Communications and day to day communication
Provide some material for people thinking about their CMS features and procurement, to factor in the kinds of activities and processes those tools should be supporting in 2012
Offer insights into team size and structure, what the roles are in managing digital projects effectively (I'm deliberately not saying 'digital communication', for now)
Give everyone some ready-made benchmarks to help evaluate impact, and if not hard numbers, then at least an open-source process for getting to an assessment of digital effectiveness
I've got a small commission – a day's paid time – from the digital team at the National Audit Office (update: actually, this was never actually used) to contribute towards managing the process of collating this, writing it up and sharing it for the benefit of their own team and others. We'd really appreciate input from a wide group on what a maturity model might look like – and indeed, whether it's the best approach to take.
The idea would be to brainstorm at UKGovcamp, take the ideas away and write them up into a draft structure, get more feedback on them here, and then publish a methodology or framework of some kind under a Creative Commons licence for anyone to use and take forward. Hopefully we'd make it flexible enough to work for anything from a Whitehall department to a district council, and something that anyone who's reasonably switched-on digitally can deploy without needing to bring in an expensive consultant (or even a reasonably-priced one).
Who's up for helping with that?
UPDATE: Here's the notes from the UKGovcamp discussion