I think it's probably safe to say that you, like me, think that public servants engaging online as part of their work is the proverbial Good Thing.
It might be a tougher challenge if we were to try to put some definitions around this, to describe what sort of digital engagement we're talking about, and where the boundaries lie. For instance, is digital engagement about having a corporate Twitter account? Having an open data store? Does the ghostwritten intranet blog to all staff from your Chief Exec count? If your boss said to you: 'Who's been doing creative things with their consultations in government?' or 'What's an example of a really good social media policy for staff?', how would you answer her?
Of course, the truth is that social media and Twitter in particular is a human network more powerful than any single source, however encyclopaedic – and it's where I get answers to those sorts of questions all the time. But I think there's a role for something less ephemeral than a social network and more structured than a forum, which can be a trusted port-of-call when you're hunting for the good stuff. So that's what I've tried to create.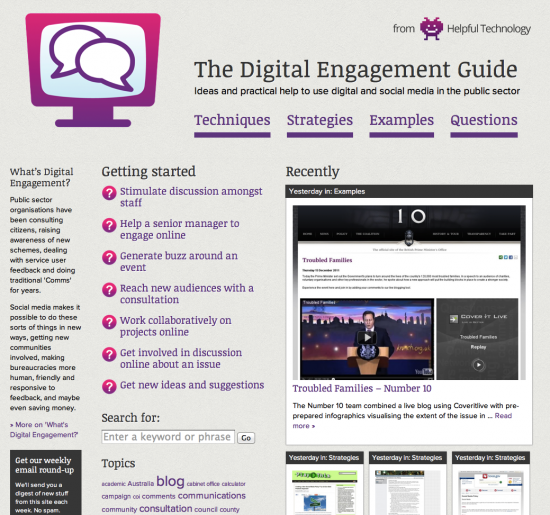 The Digital Engagement Guide I'm launching today is part bookmark collection, part reference manual, part Q&A site about how public sector organisations can use – and are using – digital engagement as part of their work. A free-to-use service, it's intended to be a place to get inspiration, shortcuts and answers, and hopefully be something we can all dip into as part of our work to spark ideas and provide context. As well as stuff from my own bookmarks, I've involved Dan Slee and Al Smith to provide some wider and especially local government examples – we're up to over 150 items so far between us.
The site is organised in four parts:
1. Techniques: are descriptions of tools and ways to use them, maybe a 5-step guide to setting up a Facebook page, or a screencast of getting started with Google Alerts or Netvibes.
2. Strategies: are about the process and documentation you might need around successful digital engagement – corporate policies, moderation rules, risk assessment templates and so on.
3. Examples: are short case studies of good uses of digital for engagement (i.e. not just broadcast or campaign-oriented social media).
4. Questions: are an experimental Agony Aunt area, building up a library of FAQs to some of the common worries and challenges people have, and some potential responses or solutions.
It's all WordPress, as you might imagine, tagged up to the hilt, intended to help people find examples involving Twitter, or just the ones from local government, for example. WordPress also brings with it opportunities like comments (to help tell the back-story to the case studies) and RSS feeds, which I'm using to power an illustrated weekly round-up email from the site, using Campaign Monitor's new RSS-to-email functionality.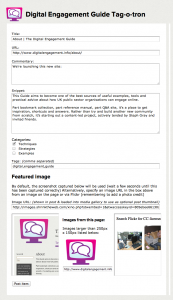 In addition to the mobile-friendly WordPress site, I'm excited to be using my new Tag-o-tron, which I've recycled from an old, abandoned project. It's a bookmarklet – i.e. a button on my browser toolbar – which enables me to quickly publish examples or strategies I come across, automatically grabbing a decent screenshot and publishing straight into WordPress, thanks to the magic of WP's XML-RPC interface. Dan and Al have been using it to contribute their material, and while I'm not intending to open the site up for contributions wholesale right now, there's interesting potential.
In the meantime, I'm hoping it turns growing a knowledgebase-style service into a by-product of the reading and writing I already do. I'm also hoping it helps with the digital engagement training and support work I do with the Government Communications Network and others. By making this into a public, shared, Creative Commons-licensed resource, I'm intending this to be a contribution to the community which has provided help and support (and more recently, commissions) over the four years I've worked in this field.
I'm really interested to hear your thoughts on whether it's the kind of thing you might find useful and if you can suggest any good examples or templates that should be incorporated. Similarly, if you find any bits of it confusing or misleading, I'd really appreciate that feedback too.