You could probably do more digital engagement around a series of stakeholder seminars, but it would be a tall order.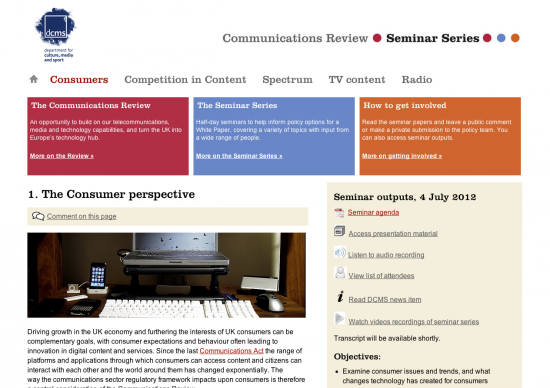 For the last month or so, DCMS have been running a little site we helped build for them on our Read+Comment platform, to open up discussion around a series of seminars they're running to inform the Department's ongoing Communications Review. The Review is looking at strategic issues around use of spectrum, content and consumer value from the regulation of communication in the UK.
The site is typical of the kind of WordPress work we're doing at the moment – flexible, low-cost, fast-turnaround, and designed to work nicely on mobile and in search.
But a few weeks on from launch, what Lizzie and colleagues at DCMS have done with it is a great example of smart digital communications on a budget. The fact is that in 2012 you don't need to build a digital platform that can do everything; you just need a platform that doesn't fence you in.
So the DCMS team have been:
embedding discussion documents and agendas using Scribd (who kindly removed advertisements from the account when we explained how it was being used)
uploading the presentations from the events to Slideshare, and embedding them
recording audio and video from the seminars, and making these easy to consume online via SoundCloud and YouTube
promoting discussion on the #commsreview hashtag (but sensibly, not embedding an unmoderated stream, just in case)
providing useful context, like lists of who attended, related news stories and so on
using (and attributing) Creative Commons images from Flickr to add a bit of visual colour
analysing traffic using Google Analytics (of course)
Virtually all of those services are free to use, and those that aren't are priced at consumer-level prices, rather than the levels government is more used to paying. And though I've helped make a tweak here and there, Lizzie has been running the platform as she wants, thanks to the flexibility of WordPress (especially widgets, menus and WordPress' support for embedded content), but more importantly, her own vision and skills. It's the same story from friends and clients at the Department of Health, University Alliance, LGIU and Foreign Office, amongst many others.
Three cheers for shoestrings, and all who thrive on them.