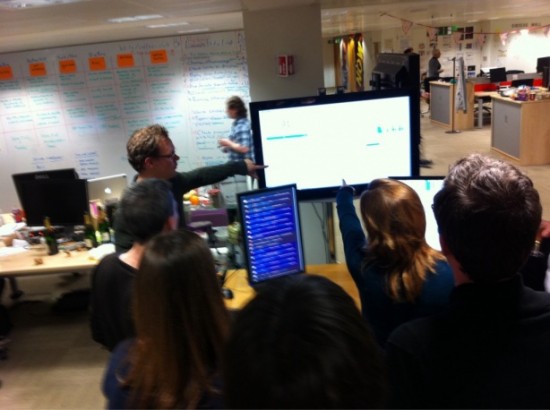 What's most interesting about today's launch of GOV.UK isn't the savings, nor the focus on user needs, nor even the remarkable (for Government) technology stack it's all built on.
What's really interesting is the team that built it.
When Alan Mather or Dan Harrison describe the eDelivery Team c.2004, you get a sense of the purpose and energy that great teams can have. I've been part of or around some truly great teams in my career so far – teams that felt like families at times, where going to work was fun because it was challenging, where people often worked long hours but didn't notice them, or hung out together with their awesome colleagues afterwards just because they could. It felt fabulous to be on the inside of those teams, and rather lonely to be on the outside.
Like Alan, I don't know what life at GDS is like, but I'll bet some GDSers would recognise that description of their team right now. Some civil servants elsewhere, and some in big systems integrator firms, might too.
There have been great developers in government before, but never with the multi-skilled teams around them to help them really deliver on their promise, and keep learning. There have been awesome project managers, but not backed with the same capacity to say no to powerful stakeholders. There have been many, many excellent content people before, but not ones given usable tools and an overriding don't-mess-with-the-Principles Red Pen of Influence. There's been the odd designer even, but they never went on field trips.
What's remarkable about GDS is the culture and people magnetism that Mike Bracken, Tom Loosemore, Richard Pope, James Stewart, Ben Terrett and others have managed to establish and nurture. People who could work anywhere, want to work for central government now. Those people, in that culture, create user-focussed experiences, great technical architectures and almost certainly, a healthy bottom line. Mike's always said that you can't really innovate with hired help, for the same reason that large-scale outsourcing often fails: it usually destroys the sense of team that you need for big things to happen. Hence Tom Steinberg's rather snappy tweet.
Inevitably – somewhat tragically – the history of great teams though is that they don't last forever. A new boss comes in and shakes things up in the wrong way. A stupid process cuts across people doing smart work. Organisations merge. Lynchpins get promoted and take on slightly too much. One or two key people drift off to see the world, have babies, deal with illness, or try new things elsewhere. Other forms of 'teamicide' emerge (for more on that, read Peopleware [PDF]). I'm not being downbeat: It's a fact of corporate life – and a reason to celebrate and enjoy those teams while they're there.
So, carpe diem, GOV.UK.
Keep doing us proud.
Photo credit: Government Digital Service