I'm something of a closet nerd when it comes to Government buildings. I've been in and out of dozens of them for over a decade now: agency-side, at the late-lamented COI and as an assiduous, networking civil servant. I once set up a Flickr group of Creative Commons-licensed images of Whitehall HQs. Above all, I love the fact of the Tudor wine cellars under the MoD, the panoramic cafe of Kemble St, the falcon retained as a mouse-catcher at the FCO, and – my favourite – rumours of a civil service nail bar under a major department's building.
So I was always going to be interested – and a tad dew-eyed I must admit – at the Government Estates Strategy announcement which the Cabinet Office put out last week, detailing how much space and money has been saved by the estates rationalisation programme since 2010. It's niche stuff by any standard, but the kind of thing I think digital channels can help bring to life.
I've written here previously about rendering unto Buzzfeed that which is Buzzfeed's, so I was impressed by the form of this announcement as much as its content: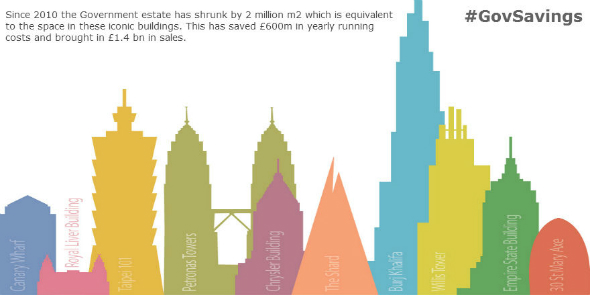 My colleague Al – a fiend for evaluation – would raise a quizzical eyebrow at this point and ask about the purpose and impact of all this digital shizzle. And it's a fair criticism, as the reach and reaction numbers look a little low.
There's a little push at the end of the GOV.UK story for the Government's Space for Growth programme (offering unused government office space to SMEs) which could be bolder, but all in all, I reckon it's a really nice digital package that puts things in the right places to reach a wider potential audience than a conventional announcement and helps the team hone expertise they can apply to a more high-profile announcement in future.
If you'll excuse me, I'm off to reminisce over a pile of rubble…