Taking a cue from Matt Jukes and others, here's some of my abiding memories of 2016, in pictures:
Took a bit more time to think and let things percolate on my daily commute into London. Tried looking for answers to Why (which I struggle with), as well as How (which is where I'm more comfortable). Found a few.
Bowie died and Mrs G had a milestone birthday so February was pretty space-themed. I made a scary cake.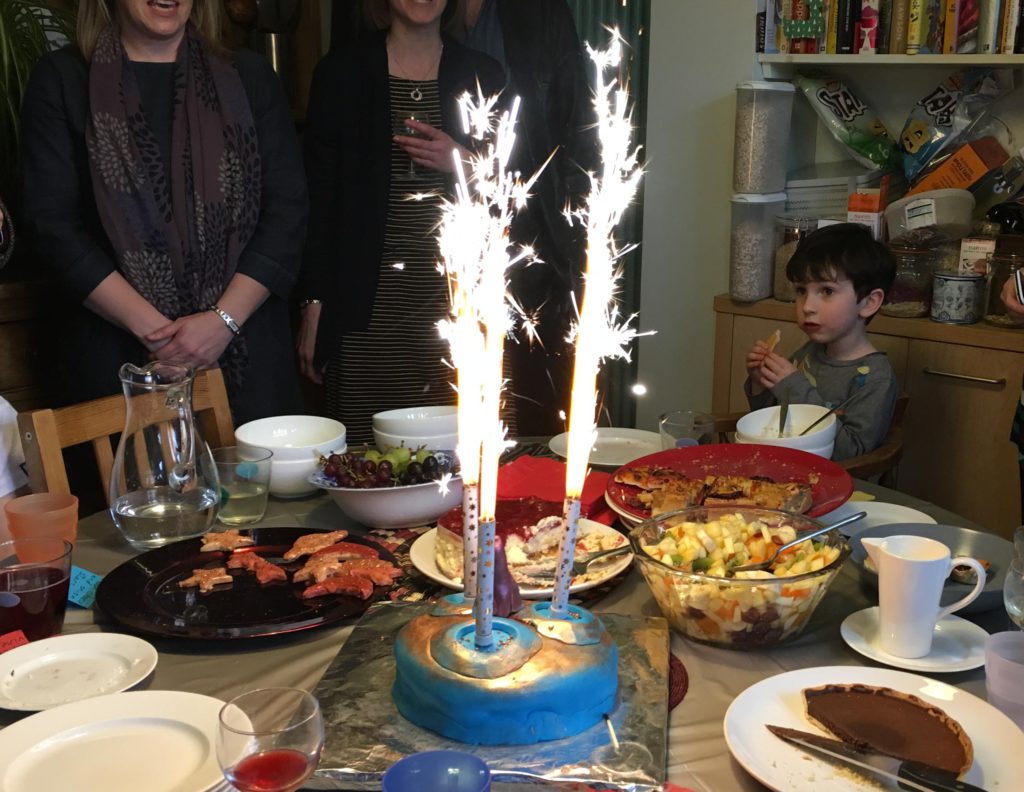 Got up early a few mornings and had Cromer Beach and Three Cliffs Bay to myself.
Watched Gray Jr get really into coding, trying not to look excessively pleased about it.
Enjoying Gray Jr's Dog's Dinner Scratch game… https://t.co/SleThvKJty pic.twitter.com/laHCqImOKL

— Steph Gray (@lesteph) May 30, 2016
Went to the seaside a few times to reflect and catch up with old friends (both of which I should do more).
Worked as part of a genuinely nice team, doing interesting and varied work for clients who care. It's hard to go from freelancer to leading a small business and I've had ups and downs this year, trying to shape a business that I'm proud of and work out my role in it. Got surprisingly into meetings, development plans, pensions and IT security.
The combo of open sharing and gentle competition is pretty unstoppable, in comms as in life: https://t.co/fyBBmFIF3l

— Steph Gray (@lesteph) October 17, 2016
Wandered around Venice Beach and Beverly Hills (after a passport near-miss). Hummingbirds, live gig at The Troubadour, Ubers everywhere.
Flew Business to Dubai in Ramadan and got a glimpse of expat life.
Had a day of chuckles and ice cream (but no booze) in Milan thanks to a drinks brand.
Mourned Brexit and Trump but more in a saying-bollocks-rather-than-crying-my-eyes-out way, if you know what I mean.
Dammit, first time the graph's looked like that.. https://t.co/CL1yXyUedh pic.twitter.com/UrjZGZVq0y

— Steph Gray (@lesteph) June 6, 2016
Got quite into the Euros with some back garden footy (Gray Jr still coding).
England match vs Scratch? Coding wins for Gray Jr #thatsmyboy pic.twitter.com/y4A3oBrlOH

— Steph Gray (@lesteph) June 11, 2016
Did less blogging and tweeting, mainly because I don't stay up late like I used to and have drifted away from the government IT scene a bit. It's harder to blog if you do it less frequently though, and I miss the time spent reflecting on work as well as doing it.
Blog: Experts & amateurs https://t.co/WD6Uh6I1Po pic.twitter.com/GcL9py0Rhz

— Steph Gray (@lesteph) July 27, 2016
Got quite excited as our new family office in the loft took shape and most of the remaining grungy areas of our house got sorted (eight years after moving in).
Had my share of late nights and early mornings simulating things from plane crashes and marauding gunmen to battery leaks and celebrity walkouts. First foreign language exercises in Arabic and German. Learned Cameroonian geography and slang words. Photoshopped a lot of weird shit.
Went to places you hardly ever go for work. Here's St John's, Newfoundland.
Sat in Midtown boardrooms and coworking spaces planning the incorporation of a new US business in 2017. Went from pipedream to Gantt chart pretty quickly.
Made madeleines with my team at our Christmas outing (we identified cake, karaoke and quizzes as the things that bring Helpful HQ together).
Hung out with my best mates, now more fun than ever.