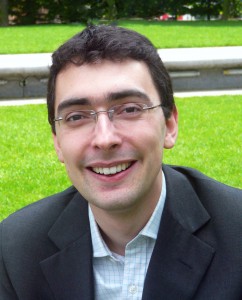 Download higher-resolution photo (760kb)
Steph is Managing Director of Helpful Technology, helping clients use digital and social media to communicate effectively.
Helpful Technology designs and develops creative, effective websites and intranets and helps clients with practical strategies and approaches for online engagement, consultation and feedback using social media
The Social Simulator runs simulation exercises and training sessions using innovative software platforms and experienced roleplayers, to help teams prepare to handle crises and issues online
Digital Action Plan provides scalable, self-paced blended learning in digital skills to help teams get more confident and capable online, combining offline training workshops with online platforms to explore and learn about digital
Steph himself is a digital strategist and practitioner, helping clients to use low-cost digital tools and techniques including social media to engage their audiences, work more collaboratively and save money. He writes strategies, manages projects, builds websites and delivers training.
Before going freelance, he ran the big digital team of a UK government department, covering corporate website management, digital engagement/social media and intranet. The team earned a reputation across and beyond Government for practical innovation in support of the Department's work, including pioneering approaches to online consultation, work with online communities and social media monitoring. Hence Postbureaucrat.
He still does around 60% of his work with the public sector, including the Foreign & Commonwealth Office, DCMS, Cabinet Office, St George's NHS Healthcare Trust, BIS, Department of Health, British Antarctic Survey and Government Communications Service.
Since leaving government, Steph has also hosted a number of events aimed at digital practitioners, including Meet The Communities, an online communities event and MailCamp, a seminar on email marketing. He was an organiser of UKGovCamp, which brings together over 200 people interested in the public sector's use of digital. He launched the Digital Engagement Guide, a collection of ideas and practical help to use digital and social media in the public sector.
Previously, Steph worked agency-side for Soho-based digital agency Reading Room as a senior project manager; and at the Central Office of Information in strategic marketing consultancy and market research commissioning. He began his career at Ipsos-MORI as a researcher specialising in e-government, online and usability research.
He regularly blogs on digital government issues at http://www.postbureaucrat.com and tweets as @lesteph.
Steph likes to write about himself in the third person, not (simply) because he is odious, but because it makes it easier to copy and paste this bio lazily into other places. He apologies profusely for this pretentiousness.
Other links: